As the joy of gift giving fades and the reality of holiday spending hits your bank account this January, bargain shopping for fabulous style is a resolution must. Ideally, we could buy anything we wanted at Neiman Marcus, regardless of the price tag. But that's not the real world, and besides, it's just as easy to achieve that $1,000 look without breaking the bank. My motto is wear what you love, no matter your budget. Either of these almost-identical winter looks is perfect for cozying up by the fire or toasting the new year with your girlfriends. With drastically different price tags, you can strut a winter-chic wardrobe in style and within your own budget.
*Click photo to enlarge*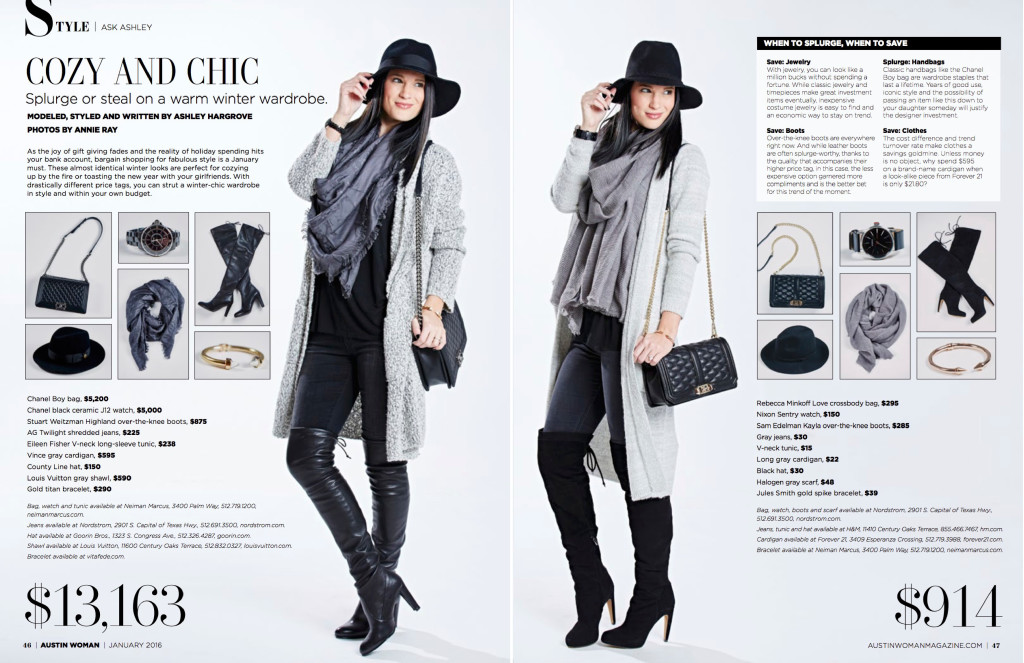 When to Splurge, When to Save
Save: Jewelry
Jewelry is a great example of how to look like a million bucks without spending a fortune. While nice watches and classic jewelry are great investment items, inexpensive costume jewelry is a fabulous way to stay on trend without dipping into your savings for a new pair of earrings.
Save: Boots
Over-the-knee boots are the trend right now, and we are seeing them everywhere: in magazines and style blogs, on models and friends. Boots are usually a splurge item for me because a well-made (and typically more expensive) pair of leather boots will last much longer than a poorly made (and typically less expensive) option. However, I broke the bank buying the seemingly splurge-worthy Stuart Weitzman over-the-knee boots, but then I found a similar pair for less than $300 that I actually receive more compliments on. In this case, save your money for another splurge!
Splurge: Handbags
Classic handbags like this Chanel Boy bag are wardrobe staples that can be passed on to your kids and grandkids. These types of handbags are iconic for a reason: They last a lifetime. Years of good use and impeccable style help justify the designer investment. Luckily, if you're simply not in the market for this type of luxury item, there are countless alternative options that will give you the same style at a fraction of the cost. 
Save: Clothes
Bottom line: I can't justify $595 on a brand-name cardigan when I can find a look-alike piece from Forever 21 for $21.80. Except for staples (like a black leather jacket), clothing is a savings goldmine. If splurge money were no object, I would regularly purchase higher-quality garments. However, until I hit the jackpot, I will be saving on affordable look-alikes, especially for trends that may come and go in one season.
_____________________________________________________________________________________________________
Splurge Details: $13,163 
*Click designers to shop look*
Bag – Chanel //  J12 watch – Chanel
Highland OTK Boots – Stuart Weitzman // Jeans – AG
Cardigan – Vince // Hat – Goorin Bros
Grey Shawl – Louis Vuitton // Bracelet – Vita Fede
Save Details: $914
*Click designers to shop look*
Crossbody – Rebecca Minkoff // Watch – Nixon
OTK Boots – Sam Edelman // Gray jeans – H&M 
Cardigan – Forever 21 // Black Hat – H&M
Halogen Scarf – Nordstrom // Gold Spike Bracelet- Jules Smith