Who doesn't want a closet that looks like these fab spaces?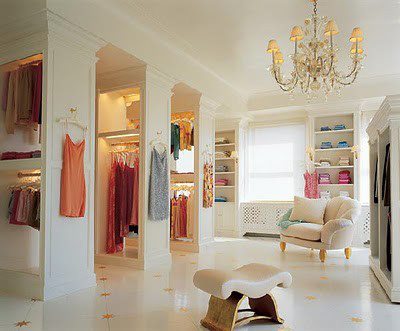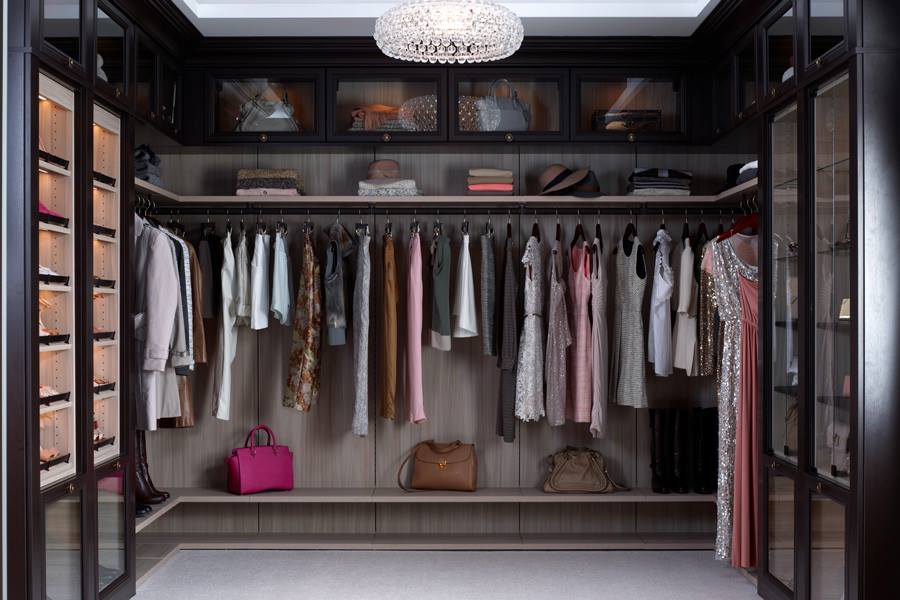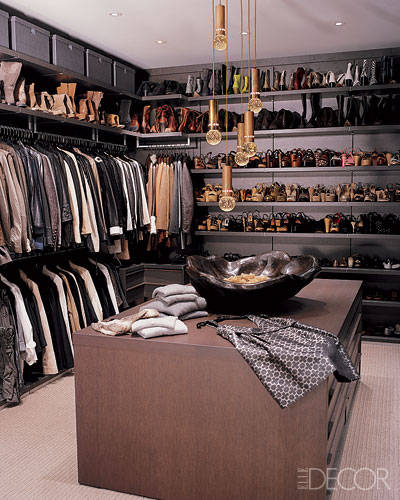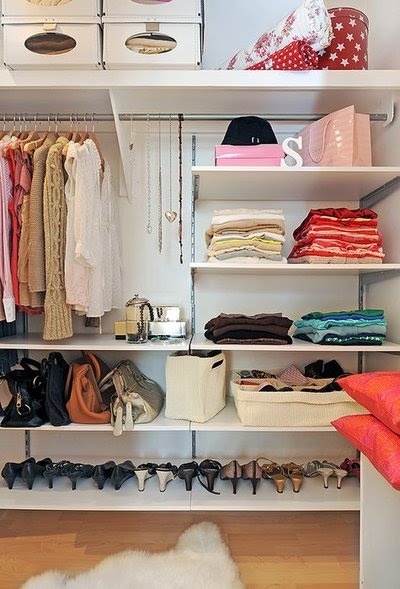 Even if you don't have the space or luxury of having a closet that closely resembles these, you can still have something that you enjoy looking at.  A neater and more streamlined wardrobe is guaranteed to make your life easier and happier.  It only takes a few hours and can be easily achieved with a little dedication and motivation.  If you are the type that HATES cleaning and despises getting rid of things, then you could always hire a personal shopper or stylist to push you in the right direction.
There is a simple 4 step list that will transform your closet:
Edit
Organize 
Get Inspired
Time to SHOP!
What to do with your designer discards? 
If you are in Austin – Let me consign them on eBay for you!  After I edit your closet, of course! 🙂
Designer Consignment is also an option – But keep in mind, they take 50-60% of the sale price!
________________________________________________________________________________________
Number 1:  Make a Closet Edit
Here's what you are going to need – a couple of hours, full-length mirror, trash bags for donations or consignment, and a clean space so you aren't overwhelmed before you even start.
#1 – Store the easy stuff you won't be wearing that season.  Ex. Summer clothes and shoes
#2 – Take everything, YES EVERYTHING, out of your closet/drawers and place it on your clean bed.  Start putting items into groups – tops, skirts, pants, jackets, etc.
#3 – Try on everything and decide what actually fits and what needs to go.  Don't save things thinking you will lose that extra weight and fit into it again. Chances are, you won't lose that weight and the item isn't valuable enough to save that long; just buy something better in another size.
#4 – Put the rejects in the trash bags – consignment bag and/or donate bag.
________________________________________________________________________________________
Number 2: Organize
#1 – Prepare your clothing spaces and analyze what could be moved around or added to create more space.  The closet in my old condo was so deformed because it was under a stairway, but I made great use of the space and went to the Container Store and installed another shelf and rack for clothes.
#2 – Arrange your clothes in categories.  This really helps know where everything is.  I organize my closet by dresses, skirts, coats, tanks and then other tops.  VERY helpful and I know where everything is!
#3 – Organize all of your extras.  This would include shoes, t-shirts, jeans, pants, etc.  Get shoe racks to display shoes; these don't take up too much space and you can always see what you have right in front of you.  Get tubs for all of your cashmere or wool clothing that shouldn't be hung.  Those pesky moths will eat that fabric any chance they get.  Store the tubs on the top shelves of a closet so you can still see what you have.
#4 – Look for what you have the most of. Now plan to go shopping to fill the gaps and add a variety. Ex. I have too much black… So, I would plan on buying more colors to spice up my wardrobe.  Or do you have too many flats?  Figure out what you will need for the season and branch out a little.
Trying to figure out what to hang and what to fold? Help is here:
Hang – Dresses, silky blouses, blazers, anything leather, skirts, button downs, and trousers
Fold – T-shirts, jeans, lightweight knits, and shorts
________________________________________________________________________________________
Number 3: Get Inspired
There are so many FREE resources out there now for fashion clueless ladies.  Take advantage!!
Pinterest
Instagram –
This is one of my favorite resources for checking out current styles and trends from my favorite designers, bloggers, actresses and stylists.
Here are some of my favorites to follow – 
TheNativeFox
TheGlamourai
PeaceLoveShea
SydneSummer
ChiaraFerragni
SongofStyle
RachelZoe
GaryPepperGirl
BagSnob
TuulaVintage
ManRepeller
RumiNeely
Whowhatwear
Facebook
Now – Make that shopping list!!  Sort out your WANTS and NEEDS.
________________________________________________________________________________________
Number 4: SHOP
#1 – Prepare yourself for a day full of shopping.  Get ready, grab a snack and a bottle of water or coffee and then evaluate your list.
#2 – Have your budget set for each store you plan to shop at that day.
#3 – Beware of sales… Yes, they are a blessing to most. But think – Would I buy that at full price?? If the answer is no, then STAY AWAY!!
#4 – Be open to items that aren't on your list.  Don't stray too far away from what you have carefully planned out, but if your budget allows a few extras, then go for it!  As long as you will get your money's worth out of it.
#5 – TRY IT ON! I am notorious for never trying anything on. I end up spending too much money and never keeping any of it because I hate how it looks since I was too lazy to try it on in the store.
#6 – Retry everything on at home and put together outfits with each piece you purchased.  A big help for me is once I put those outfits together, I will take a quick picture with my iPhone so I can put it in my outfit folder. That way I know what it looked good with when I tried it on at home.
Ask yourself these questions –
Will you get more than a handful of wears out of it?
Will it work for more than one season?
Does it have at least three "friends" in the closet?
Will it fit if you gain 5 pounds?
Is it substantially different from similar pieces you already own?
If you answered yes to the majority of these questions, it's a go!